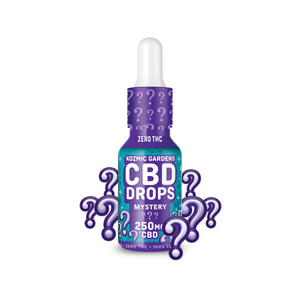 Kozmic Gardens MYSTERY Mini Tincture
Regular price $30.00 Sale
Description:
A 15mL MINI TINCTURE of coconut (MCT)oil combined with pure Hemp-Derived CBD and a special MYSTERY flavor that will remind you of summer all year round! This option is a smaller volume and dosage compared to Urban Roots' Tinctures to offer a more affordable and on-the-go option when needed!  Tinctures allow for a faster-onset of effects than other consumption measures which is ideal to see what dose is right for you. 

Dosage: 15mL, 250mg Pure CBD
Add a few drops under your tongue and experience the flavor sensations.  A few drops may be all you need!
Ingredients:  mct oil, agricultural hemp oil, flavors and terpenes
Our ingredients are sourced for their high quality, digestive properties, and bioavailability to ensure every drop counts! 
*Please note that due to FDA regulations we are not allowed to claim that CBD products can have any beneficial or medical effects. We are only reporting what consumers have reported to us

Possible Effects:
Anti-inflammatory
Anti-depressant
Headache
Indigestion
Stress Reliever
Bowel spasms
Metabolic function
Disclaimer: Consult your physician before consuming any CBD, THC, CBN products especially if you're on any Blood Thinners, Anti-Seizure medications that metabolize using the CYP450 pathway as CBD, THC, CBN may increase the blood level concentration of these medications. You can lookup your medication to see if it uses the CYP450 pathway.